When it comes to the automotive process, what is it that you want to know? Some drivers are looking for information about maintenance, others for a detailed look at their favorite models- nothing you can't find in one of our handy eBooks.
When Freehold, Marlboro Township, and Monroe Township drivers have research to do, the Audi Freehold team is always here to help. These eBooks are proof of that.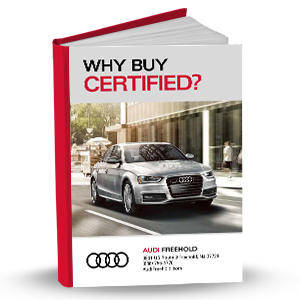 These eBooks Aid in Your Vehicle Research
If you're looking to get better acquainted with a specific model, the manufacturer's website is a great place to turn. However, these tend to be filled with an overwhelming amount of information, some of which may not even pertain to you.
Our model-specific eBooks take the information that matters most, and condenses it into a bite-sized, easy to read resource. The same can be said of all our different eBooks, no matter what the topic may be!
We offer all these eBooks for free on our website, just to make your research process easier. If you'd like to download one, just click on any of the links found on this page!
Need More Help? Talk to Our Team!
Once you've done your reading, you may have a few more questions that need answering. In which case, you can reach out to any member of our team.
If you'd like more information about a specific car, speak to our sales team. They truly know these cars inside and out.
If you'd like to know about the process of buying a vehicle, specifically about any of the finance aspects, speak to our finance team.
If you'd like advice on keeping your car in excellent shape, then you'll want to talk to a member of our service team.
Download Your eBook Today!
Is there a specific car you've been itching to learn more about? Perhaps a maintenance question you've had on your mind? Then you'll definitely want to check out the Audi Freehold eBooks, available to all Freehold, Marlboro Township, and Monroe Township drivers. Click the links on this page to download yours!