Do you crave a car that can push the limits when you press down on the accelerator? You may be searching for a sporty sedan that satisfies your need for speed. How fast is the 2020 Audi A4? At Audi Freehold, we're answering that important question for drivers near the Freehold, Monroe Township, and Jackson areas.
Of course, we always recommend following the posted speed limits and encourage safe driving. However, if you want to know more about just how fast an Audi A4 can go, continue reading below, and then contact us today for a test drive.
What's the Audi A4 Top Speed?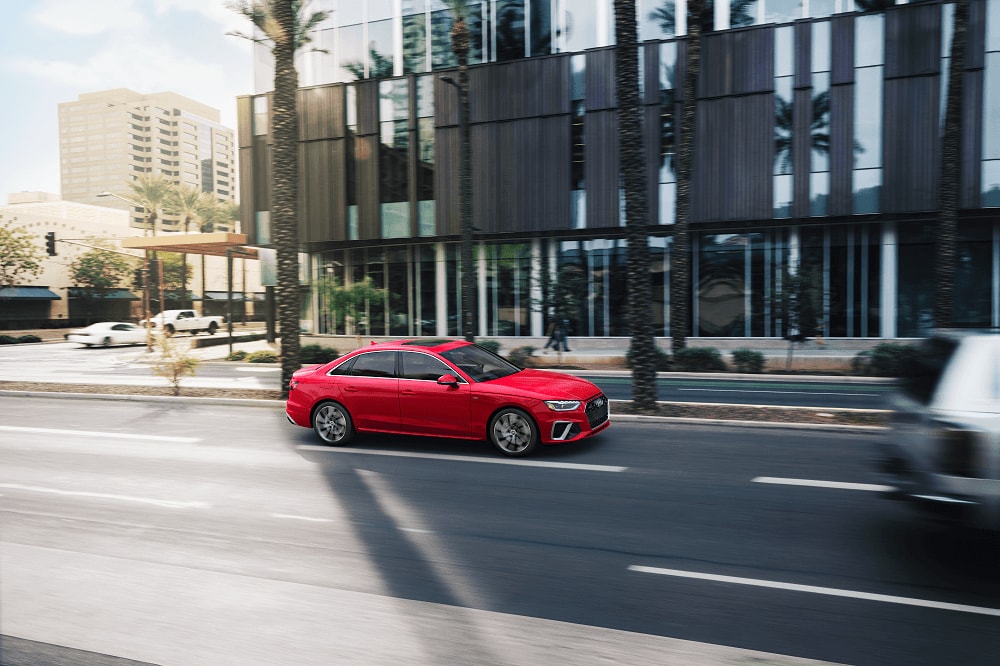 It depends on the Audi A4 you choose from our dealership. With the standard, entry-level A4 with the 40 TFSI® front-wheel drive engine, you'll be able to hit 130 MPH as a top track speed. That's thanks to the 2.0L 4-cylinder engine that reaches 188 horsepower and 236 lb-ft of torque. The turbocharged engine gives you that fast-off-the-starting-line performance whether you're on the highway or out on city streets. This A4 can go from 0 to 60 MPG in just 7.1 seconds.
However, if you're looking to hit that top track speed of 130 MPH even faster, we recommend choosing an A4 with the optional 45 TFSI® quattro® setup. The quattro® system delivers all-wheel drive capability, 248 horsepower, and 273 lb-ft of torque. With this A4, you'll go from 0 to 60 MPH a bit faster-in just 5.6 seconds.
From Behind the Wheel of the A4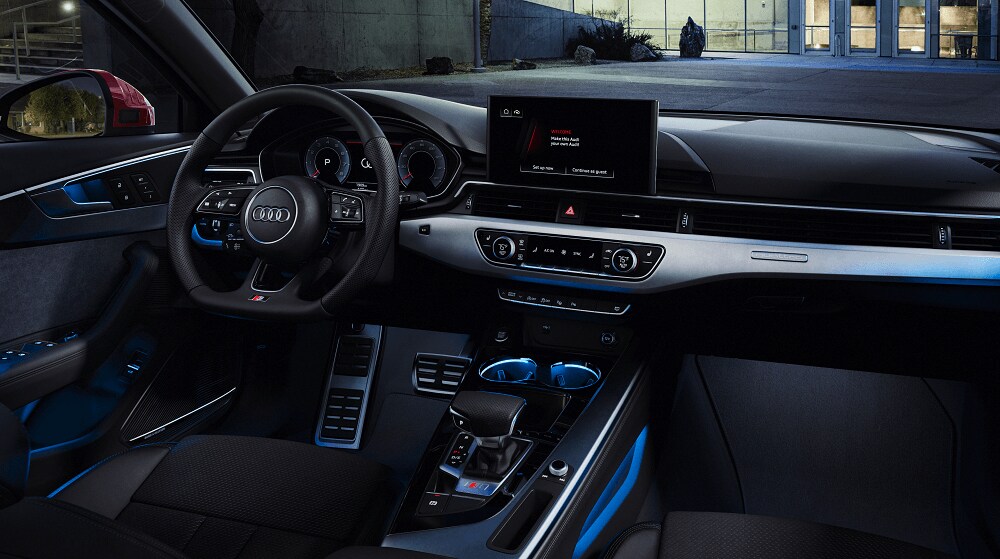 What's the view like from behind the wheel of the Audi A4? We think it's a pretty great view. The available quattro® all-wheel drive system will change the way you look at your drives, providing the sort of traction and grip that allows you to enjoy every twist and turn. While this AWD system does provide that extra traction needed on snowy and wet roads, it works on completely dry roads, too, improving cornering and handling.
You can use the standard Audi drive select to your advantage, too, and change the way your drives feel with this unique setup. Audi drive select adjusts the engine, transmission control, and steering response. For instance, comfort mode provides a smooth ride, while dynamic mode ups the ante and delivers more agility and sporty handling.
Find Your Audi A4

If you're ready to get behind the wheel of your next luxury vehicle, be sure to check out the latest 2020 Audi A4 options at our Audi Freehold dealership. Once you're ready to get behind the wheel, schedule a test drive with our sales team. It's the best way to experience the power of the A4. Plus, we'll provide you with a complete tour of the interior of the vehicle and prep you for the Audi driving experience.
Explore the Roads In an Audi A4
Now that you know all about the Audi A4 and its roadway capability, visit us at Audi Freehold. We'll be sure your test drive near the Freehold, Monroe Township, and Jackson areas is informative and prepares you for the A4 driving experience.