At Audi Freehold, our service professionals care about the health of your tires. We want to make sure you're always able to get on the roads of Freehold, Monroe Township, and Jackson in a safe manner. Searching for a tire center near me? Come visit our Audi dealership.

Whether you need brand new tires or you're stopping by for a tire rotation, the experienced team at our repair center is here to assist you.
Tire Center Monroe Township, NJ
How Often Should I Rotate My Tires?
Why Buy from an Audi Tire Center?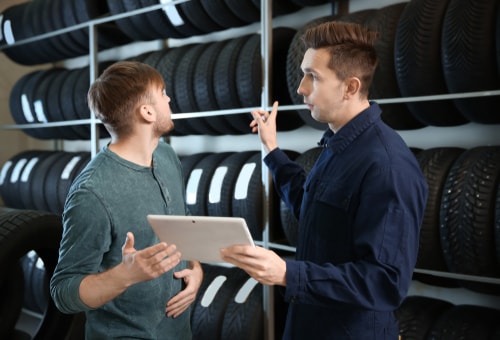 Are you in the market for new tires? If your tire tread depth is down near 2/32 of an inch, it's time to find new ones. Luckily, our team has the right tires for your Audi model. We offer competitive tire prices and offer expert installation from factory-trained technicians.

You'll find all major brands, including:
Bridgestone
Continental
Dunlop
Goodyear
And more!
Best of all, road hazard coverage is included on eligible tires. We know the roads can be challenging at times, which is why we offer this exceptional coverage.
Found a Better Price? We'll Match It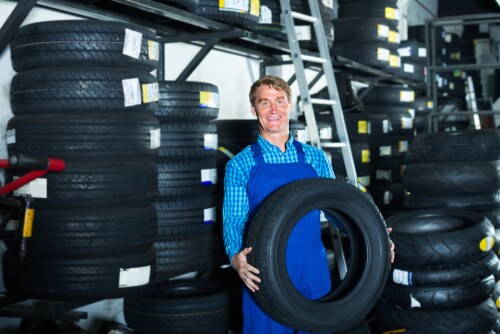 That's right, if you've found a better tire price, we'll match it. All you need to do is bring in a printed quote from a local competitor within 30 days, and we'll refund the difference.*

New tires are an important investment. With road hazard coverage, you're protected. This will cover the cost of repair, or replace a damaged tire. Have a nail or other debris in the tire? We'll do our best to provide repair service, so you don't need to replace the tire. However, if it's required, we will replace it, and it'll be covered.
Our Tire Services
Regular maintenance can ensure your tires last longer. A tire rotation should be performed to ensure the tires wear more evenly. Every manufacturer has slightly different things to say about when to get a tire rotation, but generally speaking, it should be done every 7,500 miles.
Wheels can get out of balance over time, too. If you've noticed any steering wheel vibration or uneven tire wear, that can be a sign that a tire balancing is needed. Schedule your next appointment right here on our website, and we'll be in touch to confirm a tire service.
Visit Us at Audi Freehold Today
When you're searching for a tire center near me, contact the professional team at Audi Freehold. We have new tires in stock at our location designed to be a perfect fit for your Audi, and also offer dedicated service for your vehicle.
Be prepared for what's next in Freehold, Monroe Township, and Jackson. You'll be with our tire services.
* Conditions and exclusions apply. Contact us for details.