It's time to get in the holiday spirit! Make sure you're all ready for Santa to come down the chimney. Here are the top Christmas tree farms near Freehold, NJ-the best spots to find that perfect tree.
Edwards Christmas Tree Farm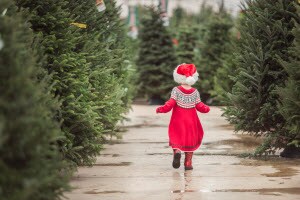 At Edwards, you'll find "choose & cut" and "balled and burlapped" trees available at the farm. Saws will be provided for the choose & cut trees, as you'll be able to pick out and take home your very own. Balled and burlapped trees range from three to six-and-a-half feet, including burlap and basket. Be sure to call ahead for availability for these.
Tree carts and free wrapping are also available, and free cutting service will be provided if you need assistance. Trees include Norway Spruce, Blue Spruce, White Pine, Scotch Pine, Concolor Fir, and Balsam Fir. Don't forget a freshly made wreath or pine roping for the front door or over the fireplace.
Keris Tree Farm & Christmas Shop
This family-owned and -operated 24-acre Christmas tree farm is located in Allentown, New Jersey, and offers choose-and-cut trees by the foot, balled trees, pre-cut North Carolina Fraser Fir, wreaths, and so much more. Choose from a variety of local species, including Douglas Fir, Blue Spruce, White Pine, and Norway Spruce.
The Christmas shop is a true winter wonderland, with crafts, decorations, and holiday gifts. Family days are on the first two weekends of December, where you'll be able to visit Santa, sip on hot cocoa, and get a true farm experience for the holidays. The shop also features gifts like Byers' Choice® carolers and Fontanini® nativity sets.
Picea Acres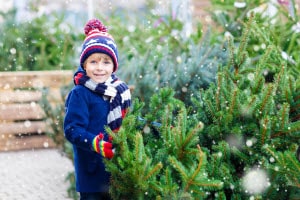 Picea Acres has everything you need to cut, move, bale, and tie down your very own Christmas tree. Start a new tradition with family or continue the tradition by heading out to the fields to find the perfect centerpiece for your Christmas celebration. Beyond trees, you'll find handmade wreaths, roping, grave blankets, and more.
Trees include Norway Spruce, White Spruce, Serbian Spruce, Douglas Fir, and White Pine. They also carry a wide variety of trees for homeowners, businesses, and landscapers, including Golden Deodar Cedar, Cryptomeria, and Alaskan Cedar. Don't feel like doing all the work of cutting and moving the tree? The staff will be happy to help.
Find Your Special Christmas Centerpiece
Pay a visit to any of these local Christmas tree farms near Freehold, NJ, to find that special tree for the holiday season. Merry Christmas!